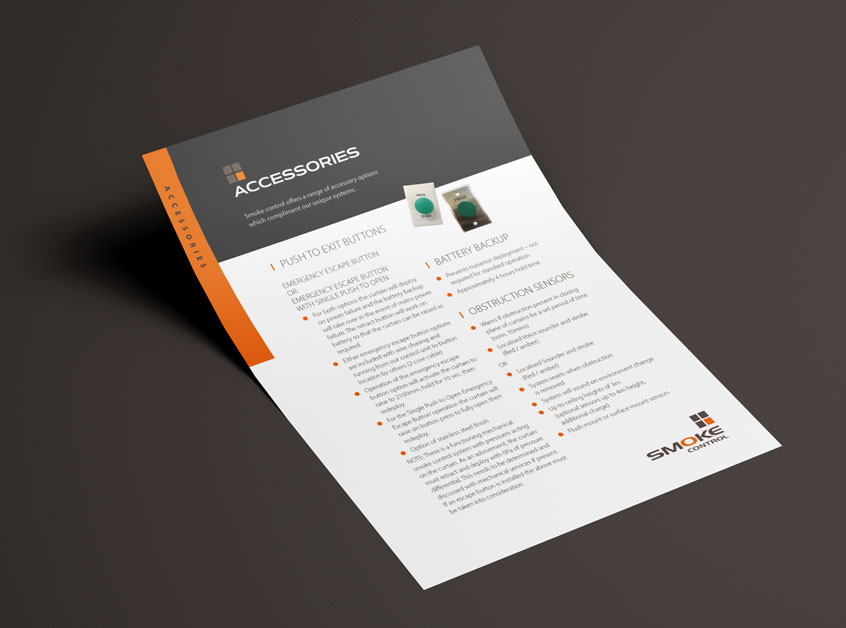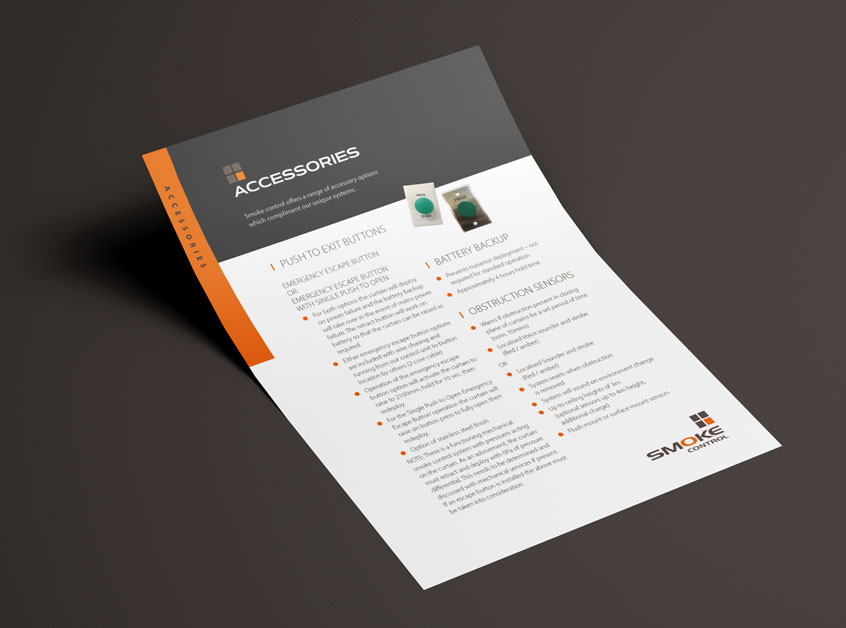 Accessories
For more information please call 1300 665 471 to speak to one of our specialists… our knowledge and expertise will ensure you make the right choice about our accessory options which compliment our unique systems.
Technical + Downloads
PUSH TO EXIT BUTTONS
Emergency Escape Button OR Emergency Escape Button with Single Push to Open
For both options the curtain will deploy on power failure and the battery backup will take over in the event of mains power failure.
The retract button will work on battery so that the curtain can be raised as required.
Either Emergency escape button options are included with wire chasing and running from our control unit to button location by others (2 core cable)
For the Emergency Escape Button the curtain will raise to 2100mm, hold for 10 sec, then redeploy.
For the Single Push to Open Emergency Escape Button the curtain will raise on button press to fully open then redeploy.
Option of stainless steel finish.
OBSTRUCTION SENSOR SYSTEM
Warns if obstruction present in closing plane of curtains for a set period of time (nom. 10mins)
Localised VOICE Sounder & Strobe (red / amber) OR Localised Sounder & Strobe (red / amber)
System will sound on environment change
Up to ceiling heights of 3m (optional sensors up to 4m height, additional charge)
Flush mount or surface mount sensor
System resets when obstruction is removed
BATTERY BACK-UP
Prevents nuisance deployment – not required for standard operation
Approximately 4 hours hold time
SIGNAGE
Black writing / white background.
The words "WARNING – AUTOMATIC FIRE CURTAIN" will be in capital letters not less than 50mm high in a colour contrasting with the background and "DO NOT OBSTRUCT" must be in capital letters not less than 20mm high.
STAGED DEPLOYMENT
The fire curtains incorporate a split drop delay to facilitate occupant evacuation. The curtain will drop to a height of 2m and hold at this position for 30 seconds before completely deploying in the closed position within 60 seconds from receipt of the general fire alarm.
On push button activation, the associated vertical fire curtain will retract open to a height of 2m. Once the fire curtain is retracted, the fire curtain must wait 20 seconds before automatically deploying back in the closed position to reduce any smoke spread between levels.